Just as Rocky Horror sings of a pelvic thrust that will drive you insane, Narrative Thrust is that thing that will drive your audience to emotional investment in your characters and their plights. A show that fails at this, no matter how strong its other elements may be, will leave viewers uninvolved.
I just caught Encores' mounting of Big River, the Tony-winning Huckleberry Finn musical. There were some entertaining things about it, but narrative thrust was nowhere in sight. Don't blame Mark Twain, author of the source material for two other musicals Encores did in a way that captivated. The authors of Big River, William Hauptman and Roger Miller, were completely new to musical theatre and made many beginners' mistakes.
Before getting to those, pause to acknowledge the many ways in which the original Big River production, 32 years ago, lucked out. It opened in one of those woebegone Broadway seasons in which the whole community is so desperate for a hit, great praise and a slew of awards get heaped on something that would have been considered mediocre in any decent year. It had a particularly beautiful set by Heidi Landesman, fluid direction (Broadway debut of Des McAnuff, who's been back many times since) and vibrant lead performances by fresh faces Daniel Jenkins and Ron Richardson. Country songs from an actual star of country music – well, that was a pretty novel thing back then. (These bits of luck don't exist this week at City Center; it runs through Sunday.)
Landesman's husband Rocco had the idea, back in the days when producers would get notions and will musicals into existence. So Hauptman was commissioned to adapt America's most-hailed novel even though he'd not written a play in the seven years prior. There's one very moving speech, and some funny parts, but the libretto is a collection of episodes, barely connected to each other. I was reminded of another odyssey of a naïve young man, Candide. Either show can be described by a popular title from contemporary children's literature, A Series of Unfortunate Events. Various bad things happen to good people, and more than a few seem fairly arbitrary. What's lacking is the sense that one thing is leading to another, with cause and effect. Huckleberry Finn and Candide are both portrayed as young men of limited intelligence. Choices they make are sometimes made for no good reason.
But the real problem is that nothing matters. In successful storytelling, events lead to other events, like dominoes falling. Actions have consequences. When actions don't have consequences, you're training your audience not to care. What the characters do shouldn't or needn't be invested in, since they lack lasting implications. They don't affect the things to come.
Act Two of Big River (the better of the two) is filled with oddities. Huck watches as two charlatans con a grieving family out of a large inheritance. He then steals the money – a bold action with absolutely no consequences for him – and stashes it in a coffin which is then buried underground. Habitual theatre-goers would naturally see this as something similar to Chekhov's gun on stage. It's bound to get fired, right? Alas, no consequence; nothing made of it.
At least, you might think, Huck has learned some lesson about imitating relatives who are likely to show up a day or so later. Nope: In the next scene, he does the same thing, albeit for a nobler purpose. Lucky for him, the late-arriving kin is his old pal Tom Sawyer.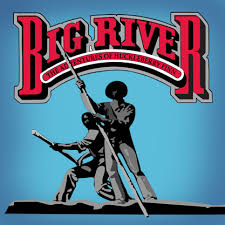 Books can afford to be episodic. We don't read The Adventures of Huckleberry Finn at one sitting. We put the book down, at the end of a chapter, and return to it later. Twain addresses the ethical crisis of his century, slavery. A century later, over two hours, this musical makes the stunning political pronouncement – Slavery Is Bad – and it's too many years after Emancipation for this to have much piquancy.
In an odd coincidence, Roger Miller had not written a song in six years prior to Big River, and, on the day of the first rehearsal, he still hadn't written a song for the show. It's easy to imagine a musician with limited knowledge of theatre and how it works, picking little moments to musicalize. Some of his songs are quite charming. I'm a sucker for a country waltz, so get some pleasure from You Oughta Be Here With Me, well-warbled by Laura Worsham here. But each act has a moment when a minor character runs on stage and energetically presents a dumb little ditty that has nothing to do with the rest of the show. There's way too many numbers that don't move the plot and I suspect Miller and Hauptman had no concept of how this might be a problem.
When a song lands in Big River, it seems it's almost by chance. So the passion and energy behind Muddy Water is a pleasant uplift. The raft leaves the dock and it feels as if something's taking flight. That's the seventh song in the show: I was quite impatient by this time.
But it's better than one might expect of neophytes. The bigger question remains: Why do producers, again and again, call upon people who've never written for the theatre before to give it a try? Are they hoping for another Big River? That good fortune will emerge from the combination of a famous title and the quirky talents of a music world superstar? Usually, the Twain don't meet.