Another of my musicals has a major anniversary this month. You've heard me claim The Christmas Bride has little to do with Christmas. Well, The Heavenly Theatre: Hymns For Martyred Actors has more to do with Halloween than anything Yule celebrate this month. It's a ghost story, and certain wisps of memory I have about it haunt me to this day.
My collaborator was extraordinarily talented, but I'm not going to reveal his name. (Ooh, a mystery as well as a ghost story!) This is because I want to speak honestly about him and some of the callous things he did to me, but it's classless and/or impolitic to speak ill of the rich and famous. He went on to win the Tony, the Pulitzer, an Emmy – but for now let's just call him Individual One.
He said he loved musicals, but he seemed troubled by his own ardor. He once told me he considered them an inherently conservative art form, meant to lull the audience into bourgeois complacency. So, to be a good leftist, it seemed, one had to reject certain musical comedy conventions; to rouse rather than to lull. Them's fighting words. I was fairly political, of a similar stripe, but didn't see my embrace of certain time-honored theatrical forms as inherently conservative.
Most songwriters would have cursed out Individual One, refused to work on the project, slammed the door. The 23-year-old me thought that all collaborations involve a certain amount of compromise. If I broke things off, he'd find another writer, and I'd be just another writer without a show. If I found a way to work with Individual One, to get past this rather silly difference, we could create something interesting. Yes, my traditionalism would clash with his incendiary rejection of what had gone before, but I didn't want our audience lulled into anything either. It was exciting to see where his approach would take this thing.
And, at every point, I never lost sight of two positives: Individual One has an extraordinary brain, able to unite a plethora of disparate concepts, to quote and discourse on a large array of complicated philosophies, to utilize a wide range of theatrical effects. Also, the script crackled with passion and poetry. This guy could write – boy, could he write – and I didn't want to unhitch my wagon from a speeding locomotive.
I'd contributed some incidental music to three plays he'd written or directed, but The Heavenly Theatre would be a whole score with lyrics by Individual One. That threw me off my game, as I'm always most comfortable creating both words and music all by myself and usually at once. Here, I was handed text to set. And the words – which usually lacked rhyme, meter, or matching sections – were unlike any lyrics I'd ever seen. Forget making this sound like a musical; how could I make this sound like a song? I felt a need to honestly communicate the difficulty I was having to Individual One, and hoped he could restructure his blank verse into something with a little more form. But my request enraged him. "We're not collaborating here. You're working for me. Now, if you don't like it, resign from this now, while I have time to get a different composer."
999 out of a thousand would have resigned, but I figured writing with someone is an experience one is bound to learn from. Individual One was so clearly brilliant in so many things, was abandoning him the right way to go?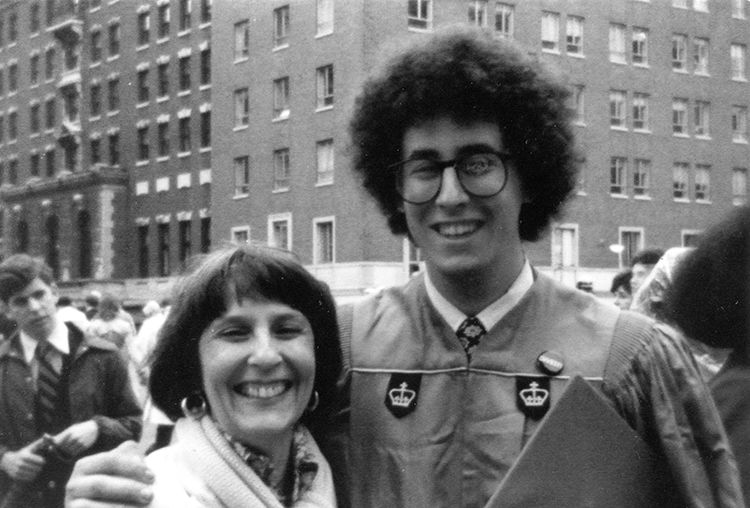 Plus, I had a plan, and that plan involved writing a song. I could take one of his lyrics and reconfigure it into a rhyming, metered, traditionally structured opening number. My efforts energized me. I knew the song was everything the show needed, introducing characters and a style of comedy; showmanship tinged with Bach-like melismas. Individual One grudgingly accepted this into the show. I felt like I'd won one.
From then on his lyrics got more settable, and I found that there were compositional techniques that suggest structure to the listener. One example involved an unusual rhythm that's first heard on a drum – it alternates 6/8 and 4/4 – and the feel is that of an ancient country dance. The lyric doesn't utilize a title, but tells a frightening story that's very compelling. The cadences of those hard beats command the attention of the audience. The whole thing managed to come across.
If I was able to channel my frustrations with my collaborator into my creative work, so was Individual One. The premise of The Heavenly Theatre is that, in medieval times, a government official has ordered the death of a commedia dell'arte troupe. They get revenge by returning as ghosts, presenting him with a musical about the events leading to their murder. Now, of course, the haunted martinet doesn't like the show, so, after some numbers, he gets to yell his disapproval. In a way, this may have been a healthy outlet for Individual One's disapproval of me.
Ours is not the only musical set in medieval France with a composer approaching his 24th birthday. There's also Pippin, and the creative pressures birthing that one led director Bob Fosse to bar songwriter Stephen Schwartz from rehearsals. As rotten luck would have it, I, too, was subjected to this cruel and unusual punishment by Individual One. This was emotionally devastating to me, but I had a great deal of confidence in musical director Wade Russo. He saw to it my music was brought to life, and we remain friends to this day.
Alas, I can't say the same for Individual One. I ran into about a month after performances, and wondered if it might ever be done again. No, Individual One told me firmly. After our difficulties working together, he'd have to find a different composer for any further permutation of The Heavenly Theatre. He did just that, and the show was announced as part of a major theatre's season about ten years later, but never came to pass.
Merry Christmas!