It's high time I tell you a few things about my new musical, Identity, which plays next week at the Wallis-Annenberg Performing Arts Center in Beverly Hills.
There's an ambition I frequently express, that every new show I write be as different as possible from all my previous shows. And there's that expression, Be careful what you wish for. Identity, in this sense, is already a success, completely alien to all my experience.
This has much to do with the people involved, and what we're all trying to do. Usually, I focus on the audience: making sure they have a good time following a tuneful story with characters they emotionally invest in. I'm not saying I haven't done that, but this time there are countless other goals.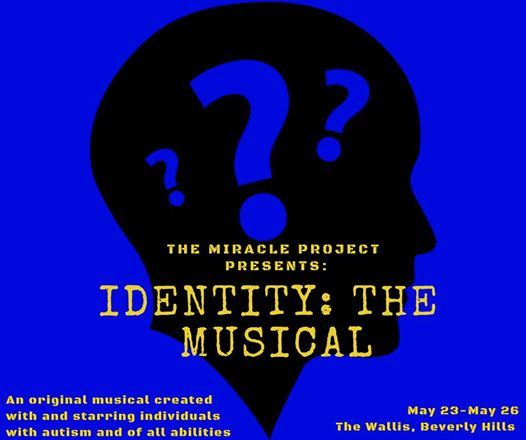 There's a company called The Miracle Project, serving the autistic community in a variety of ways, including performing arts. For many years now, they've assembled a group of singing actors and developed original musicals that they then rehearse and perform. Since I had never worked with people of different abilities, we seemed an unlikely match. The spectrum kids (I can never figure out what to call them, so, for this article, let's use "kids.") range in age from 13 to 30; there are 13 in the show. And their abilities and talents run the gamut. Some are fabulously proficient. Others need a little help to guide them around the stage, or to give them a subtle nudge when it's time to deliver a line. These helpers are also performers, and also have roles in the show. The audience will be unable to tell which is which.
I was instructed to treat everybody exactly the same, and, for many weeks, I had no idea who was autistic. Sometimes, it's obvious; sometimes, it isn't. And there's a lesson there: disabilities are often hidden. When someone takes on a character, singing, dancing and acting, it's said they become a different person. At this point, I'm used to everybody fleshing out their roles; talking to the off-stage "real" people is something of a surprise.
Starting in autumn, we met once a week for 75 minutes. Ideas about what could be in our musical, Identity, flew back and forth. Tangential discussions about things that happened in people's lives were ubiquitous. Honestly, I had serious doubts this process could ever lead to the creation of a musical. But I never abandon a writing challenge, and was curious to see how this would play out.
Eventually, the kids and the helpers brainstormed about a future dystopia. Now, if you know my taste, you might be aware that I loathe future dystopias with a passion. If that's what this show was going to be about, well, it's certainly unlike all my other musicals.
And there was something I appreciated about the idea. Identity is not about autism. The word's not in the script, nor is the concept. I guess I came to this with an assumption that a roomful of people dealing with the wide-spread affliction would come up with a show about it. Identity is a lot closer to the classic Young Adult novel, The Giver. Now, it happens that a good friend of mind wrote the screenplay to the movie version, with Meryl Streep. My friend's very funny, but that film contains not a single joke. Identity distinguishes itself by being rather humorous.
After Thanksgiving, my partners-in-crime solidified a set of ideas that sort of resembled a story. The existence of this – really a massive list written on oversized post-it notes – totally turned my head around. I now could see a workable plot emerging from this extraordinary process. Over the next six weeks, I wrote a dozen songs.
What I really wanted to talk about is the way all sorts of writing choices are the result of examining the dramatic implications of various events in a plot. When the kids came up ideas (I'll put these in green), they led to many an if/then conclusion. One day in a young adult's life, a profession and spouse is assigned by the government. If this is a coming-of-age ritual, then there should be a number celebrating becoming a grown-up. (Premises of my songs in purple.) If bureaucracy chooses whom you'll marry, there could be many an awkward wedding night. And it would be tragic and emotional if a teenage romantic couple got broken up. Job assignments might not match individuals' true desires, so we could have fun with the discomfort of new workers feeling like square pegs in round holes. One young fellow expressed a desire to play a government apparatchik who then rebels, becoming a good guy. This made me think of the positive energy of the Revolting Children song in Matilda, and that spirit imbues much of the script.
The libretto is a collaboration with the director, who often comes up with new lines as scenes are being staged, and her assistant, who sweats the details admirably and helpfully. Getting so many different performers to remember staging, lines, music and dance is a tremendous undertaking, sometimes requiring simplification. At moments, I feel like I've written something far too complicated. But then I see that the team has taken a two-minute rock quartet and expanded it to twelve players divided into three parts of the stage. The complexity of that one isn't my fault!
The kids and their teenage helpers contributed several songs and so this is not a score that speaks with one voice. There's some r & b with guitar accompaniment, a pretty up-tempo folk song, an opera aria that transforms into minor-key jazz with scatting, and rap. Their numbers are like an extraordinary set of special flavors that co-exist with my meat-and-potatoes show tunes. It's pretty wild.
I'm in the band – in every sense of the word, in the background. You can buy a seat for Identity May 23 to May 26 and be dazzled by the talent of an extraordinary cast of many abilities. They're in the foreground, as they should be.