Stephen Schwartz turns 70 today but way back when he was in his twenties he had three smash hit long-running musicals on Broadway. One of these, Godspell, had transferred from Off-Broadway, where it had played five years. That's an amazing amount of success at an amazingly young age.
Like many of us, I've been contemplating the power of the young in recent weeks. Sometimes, it takes a tyro to start a revolution. The old ways can seem played out, no longer effective. Prior to Schwartz, a show tune sounded like a show tune, and musical theatre's Golden Age had provided a bunch of scores that sounded somewhat similar to each other: Your parents' music. Then, a kid bursts on the scene whose songs sounded like Laura Nyro, James Taylor and Joni Mitchell. How fresh he must have sounded, imbued with the energy of youth.
I'm not one who knocks the Golden Era. (A major critic once called me Jerry Hermanish.) But, today, listen to a little of Mack and Mabel and then listen to Pippin. They don't seem like they're from the same planet, let alone the same era. The former had stars but wasn't a hit; the latter lacked stars but ran forever.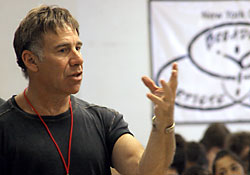 The Seventies can be seen as a transformative period. The older generation clung to the idea that show music shouldn't sound like pop. Later came the idea that new shows shouldn't sound like Golden Era shows. In the Seventies, both types existed, and nobody did more to demonstrate how pop sounds can be used for dramatic purposes than Stephen Schwartz.
That's because he's a man of the theatre, with an innate understanding of what makes a song theatrical. This quality is notably missing when aging rock stars decide to try their hand at the legitimate stage. The first Schwartz number heard in the first Schwartz musical is an octet in which various philosophies are heard in counterpoint: Socrates, Aquinas, Martin Luther, Da Vinci, Edward Gibbon, Sartre, Nietzsche, and Buckminster Fuller. Now, I ask you, could a professional rock star ever come up with anything like that? Schwartz turns these intellectual tenets into easily-understood lyrics, like only a Broadway baby can. And just when this threatens to be too wordy to take, we hear the startling sound of a ram's horn. A new song begins, and its lyric consists of seven words repeated over and over again. The mind gets a break. We can sit back and enjoy the joyful dancing. The boy in his early twenties who came up with that understood something about how an audience pays attention that older writers consistently miss.
Let's hear it for the boy; let's give that boy a hand. Or, a wall of hands. The opening number I just described would be awfully hard to top, no? Well, what if, in the beginning, you saw three dozen hands, palm forward, instead of a curtain? The light catches nothing else. There's a rock bassist and an electric piano and yet, somehow, this music is placing us in a faraway time and place. "Join us," a commedia player commands. Harmonically, we've got the cool jazz of a minor ninth chord, never settling into anything truly familiar, like a tonic. But what was strange and wondrous in 1972 is now iconic: We think of Magic To Do as the paradigm of openings.
And then comes the paradigm of I Want songs, Corner of the Sky. But my favorite first two tracks on a Stephen Schwartz cast album are Chanson and Merci Madame from his first bomb, The Baker's Wife. It closed out of town but, miraculously, four performers were hustled into a recording studio. None of the numbers involving anyone other than Paul Sorvino, Patti LuPone, Kurt Peterson and Terri Ralston were recorded, so this cast album doesn't really represent the show as it actually was. But, having seen it some years later, I can tell you: that's a good thing. The solos and duets are wonderful, tell a moving story, and the album is a joy to listen to. The whole show, in the theatre, is filled with annoying ensembles and the plot is deeply problematic. We love the baker and the baker loves his much younger wife. She decides to run away with a young lover, so, naturally, we hate her. Except Schwartz came up with a tour-de-force for the performer, an extremely long allegory that allows this adulteress to justify her perfidy. By rights, the audience should boo and hiss her off the stage. But that song, Meadowlark, is so hard to sing, we're so impressed by the singer, we applaud wildly. This is so problematic, the producer David Merrick tried to cut it by literally going into the orchestra pit and removing every musician's copy from their music stands. Contractually, it's up to the writers to approve all cuts, but I can see where he was coming from.
Musical theatre writers in New York and Los Angeles have another reason to appreciate Schwartz. Annually, at the ASCAP writing workshop, he shares his thoughts, critiquing new musicals. The information I've gleaned, listening to him over the many years, is far more valuable to me than the fine examples of his formidable musicals for the stage and screen. No writer has shared more about what goes into the crafting of a show. And he's not delivering a prepared speech; he's simply saying what comes to his head. I admire his mind even more than his music.
The thing about Schwartz lyrics is that they're squarely in the musical comedy tradition and usually sound nothing like pop. They deliver story, subtext, surprise and here's the part that gives one pause: overly clever rhymes. That's an old-fashioned quality, seemingly at odds with the modern sound of his music. In a way, this contradiction defines Schwartz – the new-fashioned sound with old-fashioned showmanship. I sometimes lose patience with this showiness ("Life is fraught-less when you're thoughtless.") but this may have to do with my fear that something similar goes on in my own work.
And we've this other odd thing in common. As children, our parents took us to visit a professional composer who lived in the Chelsea Hotel. The idea wasn't to influence us to become musical theatre writers. We went because George Kleinsinger kept all sorts of exotic animals in his apartment including a toucan named Sam. Only one of us went on to write a musical about Noah's Ark, though. Happy birthday to him.