Sea birds soaring twenty feet above a body of water suddenly spot food and plunge down, faster than gravity. The speed of their descent is more like what a falling human's would be. Picture, now, a Brooklyn warehouse, and on the floor is a gymnastics mat, not more than a few inches thick. From a very tall platform, people jump, their arms stretched out, and plummet, completely flat, on to that mat. One after another they fly, to a rhythm, in time to music.
An old portable radio sits on the ground near where a spaceship from outer space lands. Out pour a bunch of galactic travelers in white-face; although, the more one looks at them, the more you realize various ethnic groups are represented under the greasepaint. They turn on the radio and imitate the scratchy sound in-between stations. When they hit the right spot on the dial, though, they suddenly imitate classic rock, orchestral warhorses, pop of various eras. They harmonize; they make percussive sounds; they humorously interact with the audience without speaking a word.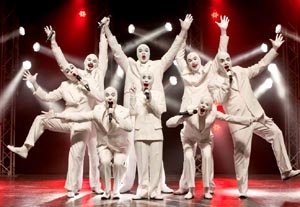 On tour, a traditional song-and-dance man bounds across a stage, tapping up a storm, to the tune of Young and Healthy. You're so bedazzled by his dexterity and grace, you never notice that he's legally blind, and had only "seen" this unfamiliar theatre space a few hours before.
Lin-Manuel Miranda's music rocks the house as singers who are also actors who are also acrobats fly on trampolines and trapezes and do all the impressive things done by competitive cheerleading squads.
You're having the time of your life, applauding so hard your hands hurt. These experiences of wild showmanship stick in your memory. Eventually, a question forms in your head: "How did they find people who can do all that?"
Joy Dewing. The widely-beloved casting director Joy Dewing engineered a process that found those people who could drop twenty feat without putting a limb forward to cushion their landings; the beat-boxers and close harmony experts who also mime; extraordinary tappers in droves; kids who leap while waving pom-poms and belting their faces off. The more than five year run of Joy Dewing Casting was responsible for 21 national tours, 56 regional productions, 2 Broadway musicals, 25 New York/Off-Broadway concoctions, and 3 dance companies; plus countless readings the public didn't get to see.
Something else the public might not know: Joy Dewing, almost single-handedly, revolutionized and modernized the way casting is done in New York. So here's something else to picture. The sun comes up on a snowy morning. A crowd of young aspirants is standing in front of a locked door. Someone takes a piece of notebook paper, tapes it to the door. Everybody signs up, then leaves until the time the notice in Backstage says auditions are to begin. And then they're heartbroken to find the people behind the table have a completely different list, their names not on it.
That's how life used to be for performers in New York. If you got in the room, you sang your sixteen bars in less than a minute, the word "next!" was yelled brusquely, and you'd be out the door. Once out, you'd mutter to yourself "There's got to be a better way."
Thanks to Joy, the better way was born, became the industry standard. Casting notices get posted on-line, and there's an equitable system of signing up for slots on-line and no name gets lost. Your time in the room is markedly different. A friendly person greets you, sincerely interested in what you can do. No one yells "next!" but a heartfelt thank you comes when it's time to go. You leave the room feeling you've shared something of yourself, to receptive ears, and eyes that are on you, not screens. The process isn't only fair, it's designed to bring out the best in people.
And it's not just a certain kind of people. Joy spearheaded a more enlightened age in which performers of all ethnicities and the differently-abled are not just considered but cast in roles that would have only gone to traditionally able-bodied whites just a decade ago. That sort of acceptance comes from altering a mind-set: no, Annie doesn't have to be a redhead with skin white as snow. Now, we all know there's lots of prejudice in the world: always has been, continues today. Imagine the ingenuity and perseverance required to get the old powers-that-be to revise their thinking and cast a wider net for performers. That's my wife, Joy Dewing.
So, I imagine that you don't accept that I'm reporting all this unbiased; that's a natural assumption. But ask anyone in the New York theatre community and they'll go on and on about her extraordinary abilities and empathy. We all know that auditioning is a harrying cross-to-bear for a lot of people. Joy sees to it that everybody is at ease, feels welcome, finds the fun. So it's no wonder that performers' hearts are lifted whenever she's in the room.
What can a spouse tell you? This will seem like more than a bit of a stretch, but let's look back at what Jackie Kennedy said after her husband was assassinated. She recalled that he enjoyed listening to the cast album of Camelot (lyrics by Alan Jay Lerner, with whom he attended Harvard). And suddenly, the press and historians referred to the Kennedy White House as Camelot. Now, I'm certainly not saying Joy has the importance of her fellow crusader for civil rights, John F. Kennedy. But, on a different scale, there's a somewhat similar sense that we just lived through a short and impermanent golden age in which the world got better. Joy Dewing Casting is no longer. But
Don't let it be forgot
That once there was a spot
For one brief shining moment
That was known as Camelot.