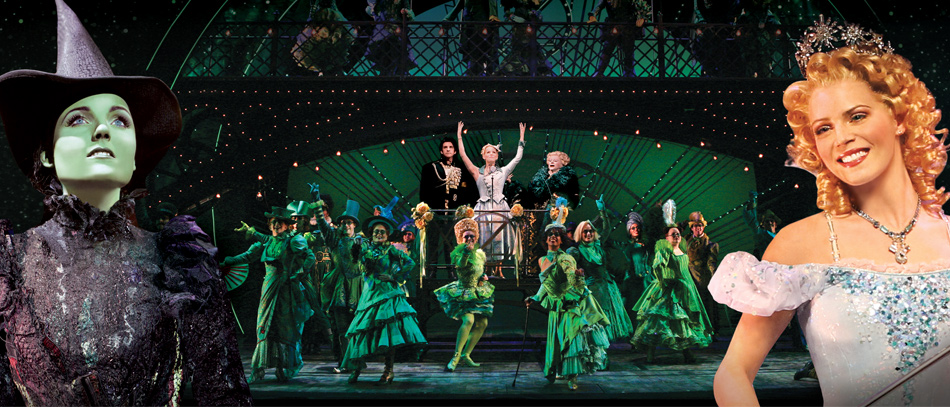 Fifteen years ago today, a Broadway blockbuster began its run. Without adjusting for inflation, when all the receipts are counted, it's a fair guess that Wicked will have earned more money than any musical created by Americans. The librettist is Winnie Holzman, who transmogrified the source material – a novel! of all things! – and the songs are by Stephen Schwartz. Both are heroes of mine, for other things they've written. That amped up my expectations when I saw it way back in the first year of its seemingly endless run.
There are two distinct reasons I view Stephen Schwartz as a musical theatre superstar: his works, which include Godspell, Pippin, Working, Rags and The Hunchback of Notre Dame – and the magnificent learning experience of his thirty years running the ASCAP musical theatre writing workshop. Much as I like some of his shows and movies, the pedagogical contribution is far more valuable to me as a writer.
Can you name anyone who premiered three of a decade's biggest hits before reaching the age of 30? Godspell, Pippin and The Magic Show were among the top ten longest running shows of the 70s. Each brought a new sound to the world of musical comedy, tinkly and vibrant, infused with the harmonic surprises of contemporary pop. Schwartz sounded like no other, and his lyrics were funny and often clever. Most impressive was his marshalling of what was then called rock into theatrical forms. Counterpoint abounds – Tower of Babel, All For the Best, Two's Company – and flowing pianistic accompaniments – Meadowlark, Corner of the Sky.
At ASCAP, listening to long excerpts of developing shows, Schwartz laid huge heaps of wisdom on us. For example, there was a notion he said he'd learned at Disney about having every "beat" of your story relate to an overall theme or thesis. Remember that. When Schwartz got into the nitty-gritty of lyrics, he'd call out word-choices that seemed wrong for characters, or times when writers strained to be clever.
Holzman had been a lyricist herself, before she fled to Hollywood. Since I liked her work in musicals, I'd tune in to TV shows she wrote, and was impressed by the level of reality she brought to angsty teen girls in My So-Called Life and thirty-somethings in some show I forget the name of.
Wicked marked a return to New York after a long absence for both of them. And the idea of telling the tale of The Wizard of Oz from the witches' perspective is an appealing one. The life of college co-eds plays to Holzman's strengths. Schwartz had the more daunting task of creating something new when the brilliance of Harburg and Arlen's movie score holds a hallowed place in our memories. Similarly, the design team faced an audience with an indelible picture of Oz.
And it's ugly. Which is a choice: I don't think it's ugly by accident. Schwartz sets the scene with dissonant chords and the sets and costumes seem somewhere in the Steampunk realm. The creative team seems set on wiping the 1939 MGM classic out of our minds, which may be understandable but a problem soon emerges. Schwartz's lyrics are filled with trick rhymes and they don't stack up. Yip Harburg's the acknowledged master of amusing sound-pairing:
Dorothy: Supposing you met an elephant?
Lion: I'd wrap him up in cellophant!
Here, the attempt doesn't quite succeed:
Don't be offended by my frank analysis
Think of it as personality dialysis
Now that I've chosen to be come a pal
A sister and adviser, there's nobody wiser
Should Schwartz be praised for the triple-three-syllable rhyme, or do you go "Ew, dialysis is disgusting!" or, more likely, "What the hell is 'personality dialysis'?" This lyric is calling attention to the lyricist's cleverness and requires countervailing physicality to keep us in the story. (Thanks, Kristin Chenoweth.) If we had time to think about personality dialysis, it might begin to make sense, but vocabulary like this colors the character as very intellectual. But in the same song she mis-accents "cohorts," which implies she doesn't have a firm grasp of English. So, which is it?
I know I'm being nit-picky about this popular song, but here's where I'm coming from: If a new lyricist had brought that into the ASCAP workshop, Stephen Schwartz definitely would have pointed out the false accent, the skeeve-you-out word-choice, the inconsistency and what this lyric says about Galinda, which isn't borne out by the rest of the play. Wicked doesn't practice what Schwartz preaches at ASCAP. By 2003, words that do calisthenics to rhyme seemed awfully passé.
Skimming the surface
Gliding where turf is smooth
I don't even know what that means; I'm only aware of the lyricist's attempt to impress me with his rhyming skills.
I'm less bothered by Wicked's abundance of references to the famous film. "I'll be so happy, I could melt" the witch sings, not knowing the future that we know. Holzman's script, from a Gregory Maguire novel, effectively amuses with its outré retelling of an overly familiar tale.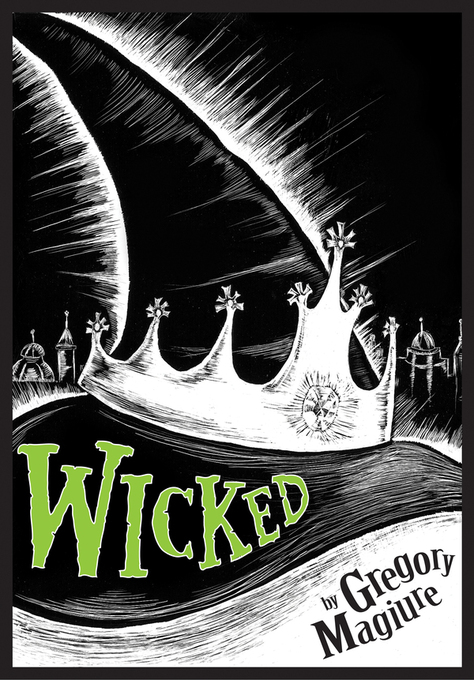 But, going back to ASCAP again, is it all about one thing? Act One has something to do with prejudice: the skin-color of Elphaba, her wheelchair-bound sister, Tartars (!), and then there's this unexplained hatred of talking animals. Fine topics for a musical, and yet these all get dropped in Act Two. At dénouement there's a very moving duet about friendship, which made me go, "Is that what this show's about?" Too little of the previous two and a half hours had much to say about the two galpals. It's not that show.
The other night I heard Idina Menzel do Defying Gravity, that anthem of female empowerment (the first time I ever heard it, Schwartz was singing). It hits the nail squarely on the head, exactly what you'd expect at that moment. As a result, I find it rather boring. Plus, Elphaba had a more effective self-actualization number earlier in the show. But there's no doubt that musicalizing a young woman coming into her own is a key to the show's unparalleled success. It's a terrific topic for a musical, and I look forward to seeing a better rendering one day.