A coloring book picture of Rosie the Riveter was going around and, given the way my mind works, I immediately thought of two musicals that were smashes in the late forties but only make brief appearances in my Subjective History of Musical Theatre because I don't have time for everything.
     To see what I do have time for, attend the two parts next month: New Musicals Inc. is hosting in North Hollywood, California, Part One 8/7; Part Two 8/8; both parts, 8/10. The presentation flies by, because I don't believe in going on too long, I zip through the last 153 years at breakneck speed.
     But back to Rosie: she stands for all the women who worked during World War Two while the men-folk were overseas doing the combat thing.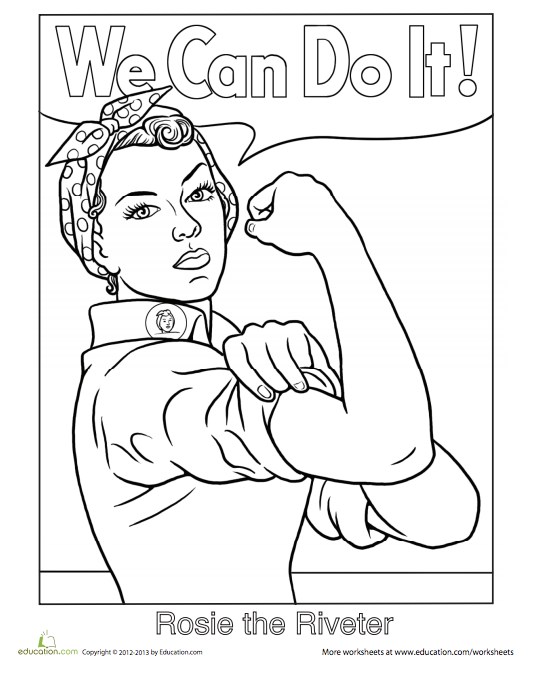 Before the war career gals were relatively rare, but the country had a need so pressing, patriarchy was supplanted for a time. Winning the war sounds like a wonderful happy ending, but where you choose to drop your curtain can make a world of difference. All those troops returned from the battlefields and, naturally, wanted their jobs back. But their feminine replacements in the work force, why should they have to give up their positions? And what if they'd done the job better than the men? There's a conflict.
     Good musicals have been built on far less. Translating this into musical comedy terms let a Broadway product exorcise a societal demon, the work war between the sexes. Imagine seeing a gal in a traditional male field, out-competing a blustery prideful male. Might be fun. And then throw in the obvious plot twist and have them fall in love. But first establish that they're total opposites. You could even have the title subtly reference the war experience the nation had just been through. Not Johnny Get Your Gun, but Annie Get Your Gun.
     Rodgers and Hammerstein, after the revolutionary success of their first two collaborations, Oklahoma! and Carousel, decided to venture into producing. They booked Broadway's biggest star, Ethel Merman, and who better to compose than Jerome Kern, who'd written Show Boat with Hammerstein? In later years he'd collaborated with the pre-eminent female lyricst, Dorothy Fields. And she and her brother Herbert, who'd been responsible for the libretto of some early Rodgers shows, would do the book. This seemed a perfect plan until Kern died.
     That led Rodgers and Hammerstein to call Irving Berlin, but there were a couple of problems. One was that Berlin was his own lyricist; Dorothy Fields would have to give up that role – Berlin was nice enough to compensate her, though. Everybody respected Berlin; except, it seemed, Berlin. He realized that Rodgers and Hammerstein had revolutionized the form, and wasn't sure he could write their new style of show. But the innovators themselves would be standing by to the guide them through it, and before long, Irving Berlin came up with the best set of songs that had ever been written for one score.
     This sublime entertainment, created for 1946 audiences, has to come up with some sort of resolution of the conflict. Rosie the Riveter left her job at the factory. Annie Oakley perceives that she can't retain Frank Butler's affection if she bests him in a shooting contest. No refrain of "I'm not throwing away my shot" for her. Although we know she's the superior marksman, she intentionally misses the target to shoot an arrow through Frank's heart. Disappointing by today's standards, but embraced by practically everyone in its time.
     Currently revived on Broadway is a post-war smash with a host of similarities, Kiss Me Kate. When its original producer was a stage manager, he observed the Lunts, the married pair of non-musical actors then considered America's best. In some play in which they played a loving couple, backstage on-lookers were surprised to see them bicker – unhappily married people – as soon as they weren't in front of the lights. There's clearly a musical comedy in this, and the producer came to Cole Porter to write the songs. But Cole felt exactly what his friend Irving did: he thought he'd been supplanted by Rodgers and Hammerstein and their new-fangled "integrated" musical. To take the pressure off Porter, the idea became to do show a divorced couple working on a musical version of a Shakespeare play – and not a particularly good one. So, the show-within-the-show has a lower barre set for it: it really didn't have to be good. And it could be as Porter-esque as anything the Indiana scion had written before the aforementioned revolution.
     Book writer Bella Spewack has my admiration for making this work. Unfortunately, she shares credit with her husband Sam, who did very little. They'd long been a team, but were now divorcing. (She didn't need to rely on her imagination re Splitsville.) The libretto milks the premise: When we watch Petruchio spank Katherine in the show-within-the-show, we don't know if we're seeing Fred slapping the butt of ex-wife Lili a little too hard, out of spite. By the show's conclusion Katherine sings Shakespeare's words,
I am ashamed the women a so simple
To offer war where they should kneel for peace,
Or seek for rule, supremacy, and sway
When they are bound to serve, love and obey.
Is this how Lili truly feels? Kiss Me Kate, like Annie Get Your Gun, exists in that pre-feminism period where musicals couldn't risk upsetting "the tired businessman" who paid for the tickets. In recent decades, the Bard's monologue has rubbed many the wrong way. Often, the actress will wink to show she's not sincere. "Ah, there's a wench!"